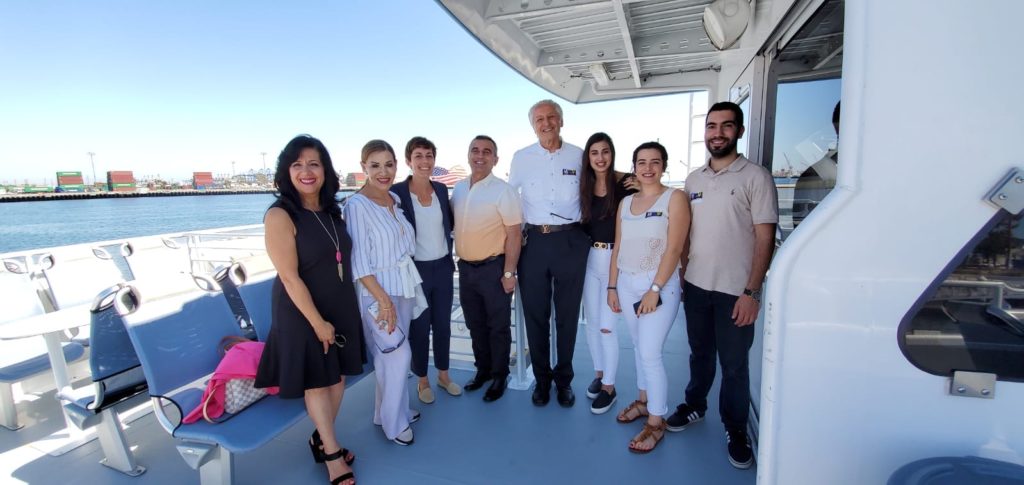 The Los Angeles Beirut Sister Cities' Engineering Students Exchange Program this September was a great success! Sarah El Kadry and Julie Younes, two civil engineering students from the Lebanese University, were selected to participate in this two-week intensive program where they met with experts in the field, government officials, and members of the Lebanese community in Los Angeles, visited sites, and explored the city of Los Angeles with all its attractions!
Sarah and Julie met with the Consul General of Lebanon in Los Angeles, Mirna Khawly, with the Los Angeles Mayor's Office Mayor Eric Garcetti , and Council member Mitch O'Farrell .
As part of the program, the students visited the Port of Los Angeles, LAX Airport, Los Angeles Department of Water & Power , and Metro Los Angeles to name a few. These site visits gave the students a first-hand experience in various fields and helped them bridge the theory and practice. Hopefully the students can take back these skills to their home country and find ways in which they can apply them in their projects there.
You can't come to LA and not visit its most famous attractions! During their visit, Sarah and Julie got a chance to enjoy some of LA's hot spots! From Disneyland to Universal Studios Entertainment , Griffith Observatory , hiking to the Hollywood Sign , strolling down the streets of Downtown Los Angeles, exploring Beverly Hills, and much much more! We enjoyed having you ladies in Los Angeles.
If you are interested in finding out how you can help support our program, please feel free to reach out to us. Your donations will help sustain this program.